Procedure of circumcision
Phimosis
Circumcision
Circumcision is the removal of some of the excess foreskin (prepuce) from the penis.





Circumcision - laser


In conventional circumcision, the excess foreskin is removed by a surgical bladder. We also perform laser circumcision, where the excess foreskin is removed with a laser beam. The laser beam cuts as well as controls bleeding from the skin, resulting in a very tidy wound. This technique allows exact proportions of skin and mucous membrane to be removed. Laser circumcision is the technique of choice for children circumcision and can also be applied to adult patients.
Generally, risk of complications in a competently performed circumcision is very low. Minor bleeding (1%) and infections (0.1%) are the two most common complications.
Religious or culture
Circumcision is not indicated if the foreskin can be completely retracted to expose the head of the penis. There is not clear evidence if circumcision will enhance or decrease sensation during sexual intercourse.
Updated 26 Sept 09
Urology Services
Phimosis - constriction ring preventing complete retraction of foreskin





Circumcision





Circumcision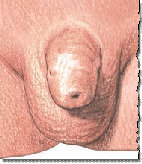 Medical
Personal Preference

Male circumcision is religiously practiced by the followers of Judaism and Islam. The ceremony, with great rejoicing and festivities, usually takes place one week after birth for Jews and within the early few years of age among Muslims.


S H HO UROLOGY AND LAPAROSCOPY CENTRE